Lewiston History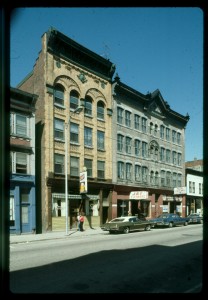 We have historical & genealogical resources on Lewiston, Androscoggin County, and Maine. The non-genealogical materials are detailed below; please see our Genealogy page for those resources.
Lewiston Newspapers
Evening Journal, Daily Sun, & Sun Journal

Lewiston's first newspaper, The Evening Journal, was begun in 1861. The Daily Sun started publishing in 1896. These two papers combined in 1989 to become the current paper, The Sun Journal. We have the complete print runs of all three papers on microfilm. The microfilm can be browsed here in the library by anyone. However, it is not indexed or searchable by keyword.
Google Newspaper Archive
Google has scanned and indexed many, but not all, of these newspapers. Those archives are available from anywhere:
Other Local Newspapers
Also on microfilm, we hold the complete print runs of:
The Maine Times (1968 – 1976)
Le Messager (1880 – 1968)
Lewiston Collection (digital resources)
Our Digital Archives has over 5000 images of historical Lewiston/Auburn, as well as 10,000 references to various topics in local media during the past 150 years.
Lewiston Collection (physical materials)
The Lewiston collection is an amazing collection portraying the history of the city through various documents such as:
City and County Directories
Bates College Theses
The Franklin Company papers
scrapbooks
personal accounts
reports & records of organizations
Browse the Lewiston Collection
Related materials