Library Cards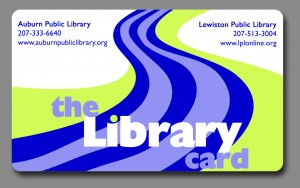 Anyone living in, paying taxes in, or going to school in Lewiston/Auburn is entitled to a free library card. Non-residents can purchase cards.
Renew/Register for a Card or Login to Your Account
Frequent Questions
How much can I check out?
30 items per card.
3 items on the same subject.
10 reserves at a time.
How long can I check things out? What is the cost?
Cost
How Long
Renewals
Late Fees
Books, Magazines, Music,
Non-Fiction Film
free
2 weeks
3 times,
2 weeks each*
.10/day
max. $5 per item**
Entertainment Films
$1
1 week
1 time
1 week*
$1/day
max. $3 per item**
Audiobooks
$1
2 weeks
3 times
2 weeks each*
.10/day
max. $5 per item**
* as long as there are no holds on the item.
** if the item is never returned, you will be charged the replacement in addition to late fees.

How can I renew things?
By phone: 207-513-3134
Send a text message to 207-200-1511 with your library card number. We will renew everything on the card and send you a confirmation.
In person, of course
Read the complete Borrowing Rules & Circulation Policy.
Non-Residents
Library Cards are available to non-residents for a yearly fee of $60 (or $30 for 6 months — $15 for 3 months). This card entitles the holder to all library services. Non-resident cards must be purchased in the library.